Piermont lies at the heart of a diverse wilderness offering adventure, culture and serenity in equal measure. A short drive from the peaceful retreat are the revered mountains and bays of Freycinet National Park, the relaxed coastline of Friendly Beaches and the eclectic art scene of Hobart.
For those seeking adventure, miles of rugged landscape are ready to be explored. Immersed in the Freycinet Coast community, Piermont invites its epicurean guests to meet the awarded yet down-to-earth providores living nearby.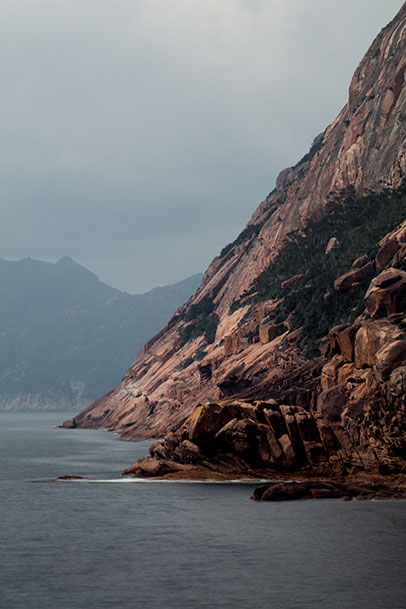 TRIPS FOR THE MORE ADVENTUROUS: WANDERLUST
Freycinet National Park
The Hazards define this revered wilderness—their imposing peaks zigzag through the Tasman Sea inspiring endless adventure. Founded as a natural park 100 years ago, Freycinet is Tasmania's oldest official explorer's paradise. Boasting 100 kilometres of protected terrain, the park encompasses glittering bays flanked by forested mountains, wildflower fields, deep blue lagoons and the charming Cape Tourville lighthouse. A hike through the rugged Hazards cliffs leads to the smooth curve of Wineglass Bay—renowned as one of the world's best beaches.
Other wanderlust destinations

Maria Island National Park

Catch the ferry from Triabunna to Maria Island where history, protected wildlife and striking natural formations are to be found. Take a stroll through the ruins of the 1825 Darlington convict settlement or immerse yourself in the island's wilderness.

Douglas-Apsley National Park

Less than two hours from Piermont, Douglas-Apsley is a truly diverse wilderness harbouring deep gorges, rushing waterfalls and tranquil rivers. Take a dip in the Apsley River Waterhole or choose from many hikes that wind through a maze of rugged gorges.
RELAXED DAYS OF FAMILY FUN: GROUNDED
Friendly Beaches
Stretching across 140 hectares just north of Freycinet National Park, Friendly Beaches is a vast nature reserve with majestic heathlands forming its western border and unspoilt beaches opening east to the Tasman Sea. With a picnic lunch of seasonal produce from the Homestead Restaurant brought along, this gentle wilderness easily becomes home base for the day. All energy levels and ages may enjoy Friendly Beaches' deserted shores—its endless crisp swell providing fine fishing, surfing and swimming while the bright white sand offers a comfortable lookout for sea eagles, albatross, penguins, whales and fur seals.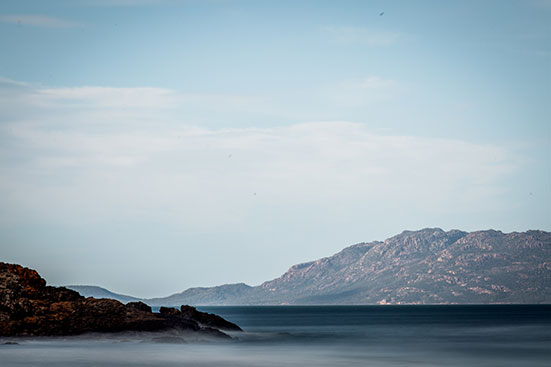 Other grounded destinations

Great Eastern Drive

Let this winding road carry you through tranquil bushland and past spectacular views across the Tasman Sea, visiting vineyards and beach towns along the way. From Piermont, follow this spectacular coastal road to the endless beaches of renowned Bay of Fires.

Wineglass Bay Cruises

Embark on an unforgettable four-hour cruise through the Freycinet Peninsula's revered cliffs and coves, encountering rare seabirds, penguins and whales and savouring a ploughman's lunch of local delicacies at one of the world's best beaches.

Coles Bay

Sheltered by the rocky Hazards mountains of revered Freycinet National Park, Coles Bay is small seaside village boasting calm beaches and rare wildlife.
FOOD, DRINK AND CULTURE: IMMERSIVE
Wineries Trail
Dotted along the coastline are some of Tasmania's most celebrated wineries and providores that provide the epicurean traveller with sumptuous feasts throughout the seasons. An eclectic winery trail winds through hills yielding exquisite cool-climate Pinot Noirs, Rieslings, Pinot Gris and Rosés—available to sample at the historic cellar doors of Spring Vale, Milton, Gala Estate, Freycinet and Piermont's Homestead Restaurant. Linger beside the grapevines and meet the families who've crafted their fine vintages here for generations.
Other immersive destinations

Melshell Oysters

Located just next door to Piermont, stop by the farm gate of Melshell Oysters to sample sweet and salty oysters harvested daily from Great Oyster Bay.

Helicopter to MONA

Embark on a scenic helicopter flight with Rotorlift from Piermont to Hobart's MONA—one of Australia's best galleries showcasing cutting-edge contemporary art.

Piermont asado

On special request during summer, owner Juan will draw upon his Argentinean heritage and fire up a traditional asado. Advanced bookings and minimum numbers required.
PURE RELAXATION: SERENITY
Around Piermont
Hidden amongst serene bushland beside the beach, Piermont is a haven for idleness and solitude. Elegant accommodation and quiet surroundings provide an invigorating backdrop to your coastal escape, where the natural beauty is easily admired from your private deck or on a slow stroll through the grounds. Take in the uninterrupted sight of the Hazards mountains blushing pink beyond the bay. Waves lazily rolling, this is the ideal place to savour a smooth Pinot Noir made from grapes grown just minutes away.
Other serenity destinations

Seascape Walk

The meditative path of the Seascape Walk traces the gentle curves of Piermont Beach, passing the silvering old boat shed and rising to the cove's highest point.

Relax indoors

Secluded by native trees inside your contemporary hilltop perch, let the mind drift as you rest beside a glowing fire of fragrant local pine.

Spiky Bridge

Take the short drive south to the intriguing stone Spiky Bridge built by convicts in 1843.